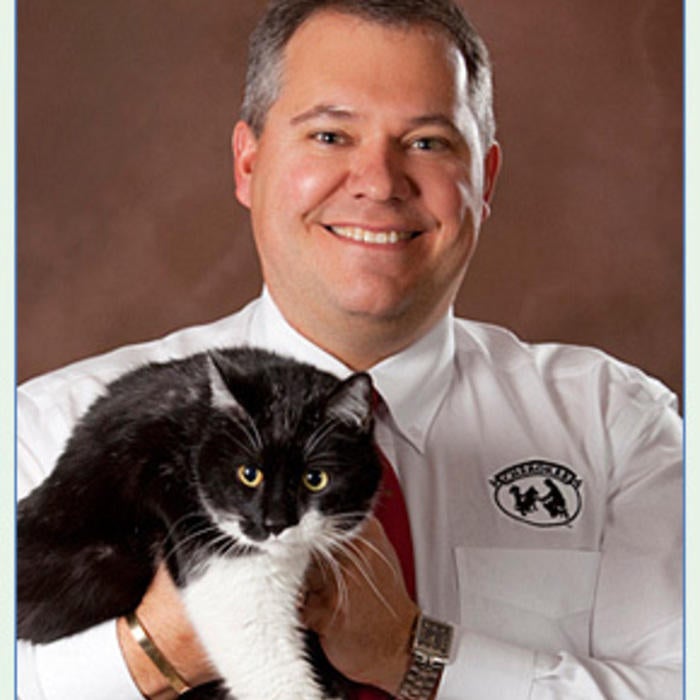 Michael Stenstrom, DVM
Dr. Michael Stenstrom, owner of Falcon Valley Animal Hospital, has cared for pets here as a general practitioner since 2006. A native of White City, Kansas, he became a veterinarian due to his love of animals growing up on his family's farm. Dr. Stenstrom values the relationship that the veterinarians and staff at Falcon Valley Animal Hospital have with the clients and pets who come in each day and he loves working with the animals. Dr. Stenstrom completed his undergraduate education at Kansas State University, where he received his Bachelor's Degree in Animal Science in 1991. He continued his veterinary education at the Kansas State University College of Veterinary Medicine and was awarded his Doctorate of Veterinary Medicine in 1994. Surgery, ultrasound and radiology are among Dr. Stenstrom's many veterinary medical interests. He is a member of the American Veterinary Medical Association, Kansas Veterinary Medical Association, Kansas City Veterinary Medical Association, American Animal Hospital Association, American Association of Feline Practitioners, and the National Rifle Association. Dr. Stenstrom is also a member of Trinity Lutheran Church. Outside the hospital, Dr. Stenstrom enjoys spending time with family and friends, gardening, landscaping, fishing, and watching KSU athletics. His animal companions include his dog Jinks, and three cats, Cricket, Max, and Fizz. He and his wife, Dr. Kristol Stenstrom, also a veterinarian, are the parents of three children, Sofia, Arik and Kjell.
Amy Zeimetz, DVM
Dr. Amy Zeimetz started as an associate veterinarian at Falcon Valley Animal Hospital in April 2016. She was born and raised in St. Paul, Minnesota and relocated to Kansas two years ago. Dr. Zeimetz graduated from the University of Minnesota College of Veterinary Medicine in 2009 and has been working as a small animal general practice veterinarian since then. She became a veterinarian because of her love and passion for animals and has enjoyed a career of helping pets and their people. Dr. Zeimetz loves providing quality care to all and especially enjoys dentistry – teeth cleanings and extractions helping to make healthy smiles for pets.In her spare time she loves gardening, fishing, and spending time with family and friends. She and her husband Scott live on wooded acreage south of Eudora with two cats, Matilda and Deuce, and three dogs, Gulliver, Lorraine, and Geronimo. Recently they have all been busy preparing for the birth of their first child, a baby girl, who is due at the end of April.