Amy Zeimetz, DVM
Dr. Amy Zeimetz started as an associate veterinarian at Falcon Valley Animal Hospital in April 2016. She was born and raised in St. Paul, Minnesota and relocated to Kansas two years ago. Dr. Zeimetz graduated from the University of Minnesota College of Veterinary Medicine in 2009 and has been working as a small animal general practice veterinarian since then. She became a veterinarian because of her love and passion for animals and has enjoyed a career of helping pets and their people. Dr. Zeimetz loves providing quality care to all and especially enjoys dentistry – teeth cleanings and extractions helping to make healthy smiles for pets.In her spare time she loves gardening, fishing, and spending time with family and friends. She and her husband Scott live on wooded acreage south of Eudora with two cats, Matilda and Deuce, and three dogs, Gulliver, Lorraine, and Geronimo. Recently they have all been busy preparing for the birth of their first child, a baby girl, who is due at the end of April.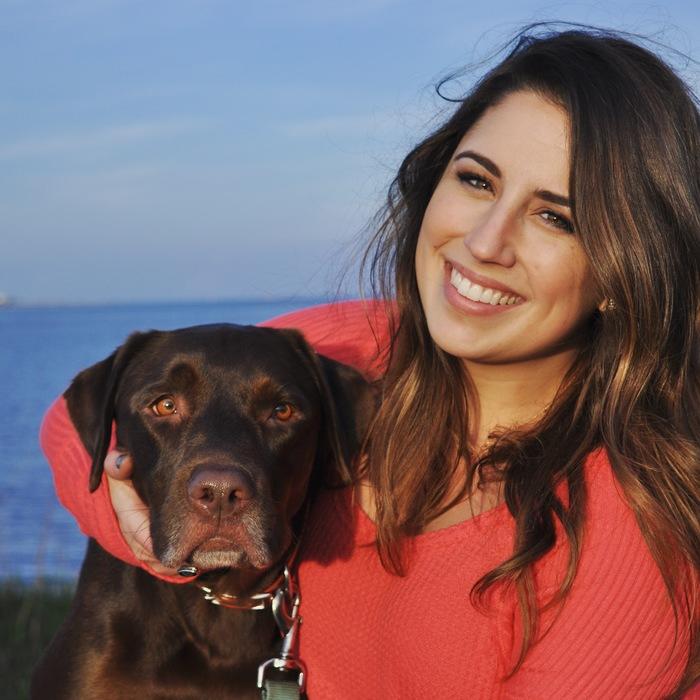 Kristin Wuellner, DVM
Dr. Kristin Wuellner, DVM joined Falcon Valley Animal Hospital as an associate veterinarian in June 2017. Prior to joining the Falcon Valley team, she completed a one-year clinical internship with Nestle Purina Pet Care in St. Joseph, Missouri. Dr. Kristin attended Clemson University for her undergraduate studies in Wildlife and Fisheries Biology before earning her Doctorate in Veterinary Medicine at Auburn University College of Veterinary Medicine in May 2016. Dr. Kristin currently serves as the Chair for the AVMA's Early Career Development Committee and offers mentorship to students in the Veterinary Business Management Association (VBMA). Outside of the clinic, watching college football, hiking, exploring the outdoors, and traveling to visit friends and family are Dr. Kristin's favorite activities. She has two pets, a perfect chocolate Labrador rescue, and a sassy leopard gecko, Diego.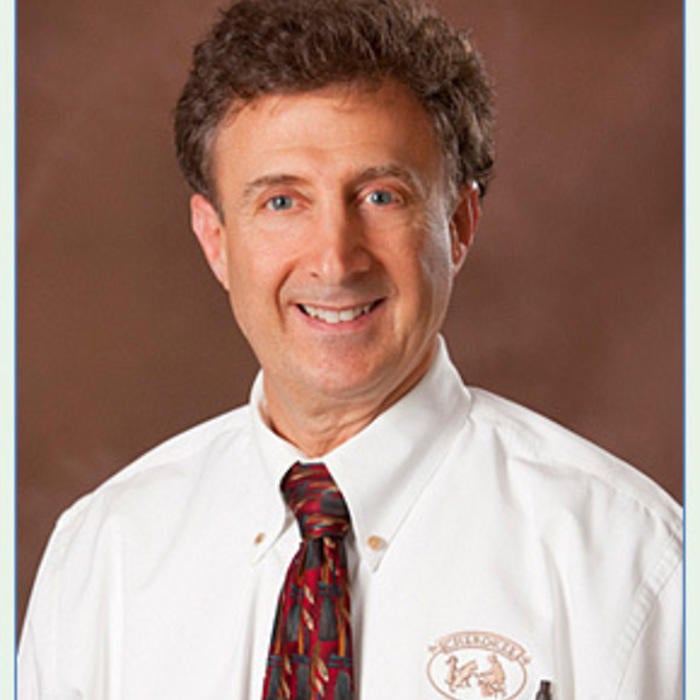 James Kontras, DVM
As co-owner of Falcon Valley Animal Hospital, Dr. Kontras has cared for numerous dogs and cats since 1976. At the age of 10, Dr. Kontras know he wanted to pursue his passion working with animals in some capacity. Finding a special joy and fulfillment in caring for the health and well-being of animals, his childhood dream became a reality. In 1972, Dr. Kontras received his Bachelor's degree in Zoology from the University of Missouri-Columbia, and was awarded his Doctorate of Veterinary Medicine in 1976 from the University of Missouri College of Veterinary Medicine. Aside from veterinary medicine, which he finds very rewarding, wood-fired pottery, woodworking, painting, reading, and gardening remain passionate interests filling his free time. He lives on a five acre wooded hillside lot, sharing their home with adopted cats and the constant presence of wildlife native to the area.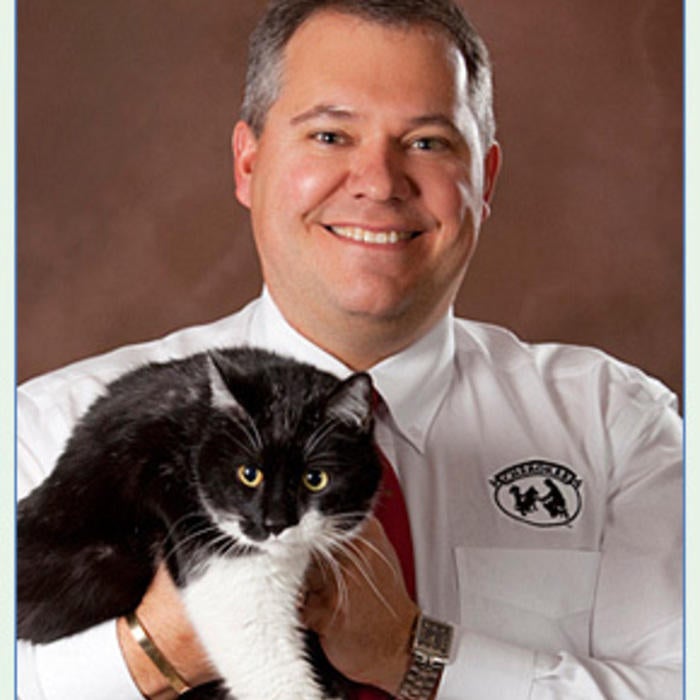 Michael Stenstrom, DVM
Dr. Michael Stenstrom, co-owner of Falcon Valley Animal Hospital, has cared for pets here as a general practitioner since 2006. A native of White City, Kansas, he became a veterinarian due to his love of animals growing up on his family's farm. Dr. Stenstrom values the relationship that the veterinarians and staff at Falcon Valley Animal Hospital have with the clients and pets who come in each day and he loves working with the animals. Dr. Stenstrom completed his undergraduate education at Kansas State University, where he received his Bachelor's Degree in Animal Science in 1991. He continued his veterinary education at the Kansas State University College of Veterinary Medicine and was awarded his Doctorate of Veterinary Medicine in 1994. Surgery, ultrasound and radiology are among Dr. Stenstrom's many veterinary medical interests. He is a member of the American Veterinary Medical Association, Kansas Veterinary Medical Association, Kansas City Veterinary Medical Association, American Animal Hospital Association, American Association of Feline Practitioners, and the National Rifle Association. Dr. Stenstrom is also a member of Trinity Lutheran Church. Outside the hospital, Dr. Stenstrom enjoys spending time with family and friends, gardening, landscaping, fishing, and watching KSU athletics. His animal companions include his dog Jinks, and three cats, Cricket, Max, and Fizz. He and his wife, Dr. Kristol Stenstrom, also a veterinarian, are the parents of three children, Sofia, Arik and Kjell.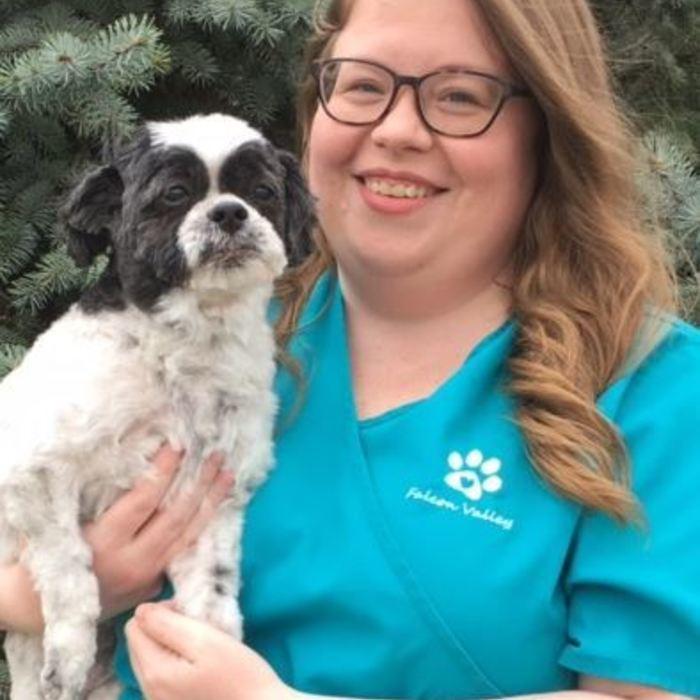 Ashley Elder Practice Manager
Practice Manager Ashley Elder brought over 15 years of customer service experience to the hospital when she joined us in February 2015. She moved from Mississippi to Kansas in the summer of 2012 and has thoroughly enjoyed the transition to her new "big city" mid-west life. She believes her positive attitude and desire to really get to know clients and their pets make her a great addition to the Falcon Valley team. Her two rescued dogs, Arlo and Ava, enjoy going to the dog park with Ashley and her husband, Adam. She also enjoys crocheting, taking painting classes, quilting, and sewing, reading, collecting Lego, playing video games and cooking in her free time. "Falcon Valley clients are so kind to trust us with their furry family members. The joy of seeing a sick pet get well and go home with their owner is the best part of the job."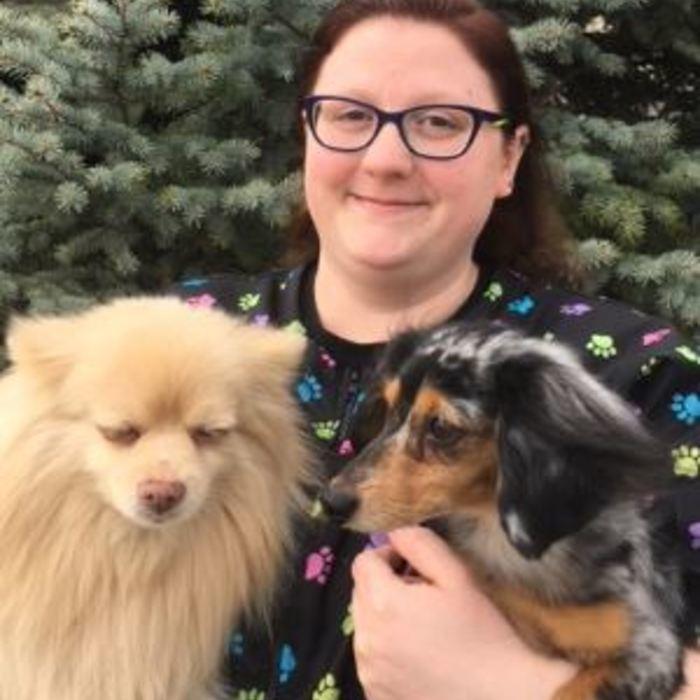 Annie Gregory Groomer
Annie Gregory has been working with animals for over 12 years, and joined the Falcon Valley team in 2008. Annie enjoys making pets feel and look better after a fresh bath and haircut. She has a wide range of knowledge of breed-specific cuts, and she can help keep your pet looking its best. As the longest employed member of our team, Annie is essential to keeping things running smoothly! She spends her free time with family and friends, or spoiling her 12 year old Pomeranian mix Fefe, 7 year old long-haired miniature dachshund Daisy, and 4 year old Wire-Haired Pointer mix, Howard Wolowitz. "I enjoy working at Falcon Valley because we truly care for, not only the pets, but the owners as well. We work as a team to keep all of our clients happy and healthy."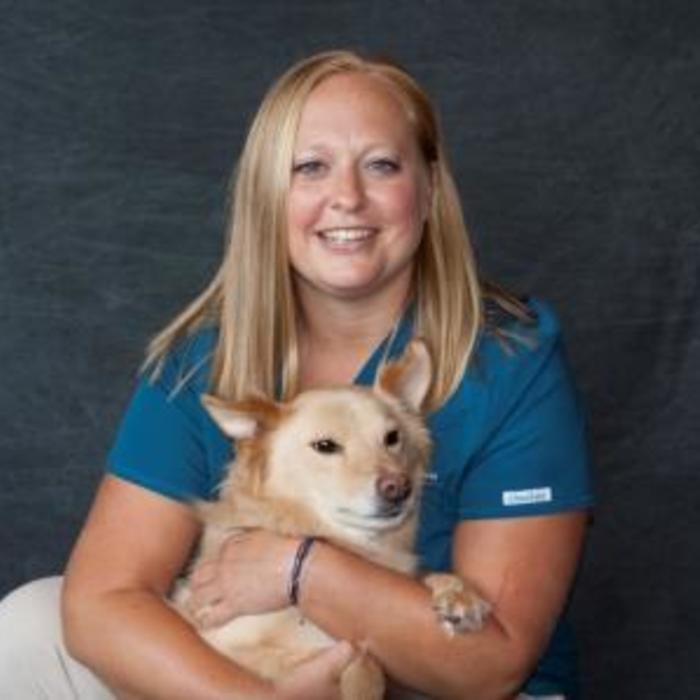 Jamie Smith Registered Veterinary Technician
Jamie Smith has been working with Drs. Kontras and Stenstrom since August 2009, when she joined the staff at Cherokee Animal Clinic as a veterinary assistant. Jamie transferred to Falcon Valley in May 2012 after completing her Associate Degree in Applied Science - Veterinary Technician at Maple Woods Community College and assists with many tasks, including caring for the animals, assisting in dental exams and cleaning, prepping pets for surgery and anesthesia monitoring. Her three dogs Rocco, Enzo, and Livi keep her busy at home, although she also enjoys traveling, home improvement, and watching local sports teams. "I like the family atmosphere here and knowing all of our clients and their pets by name."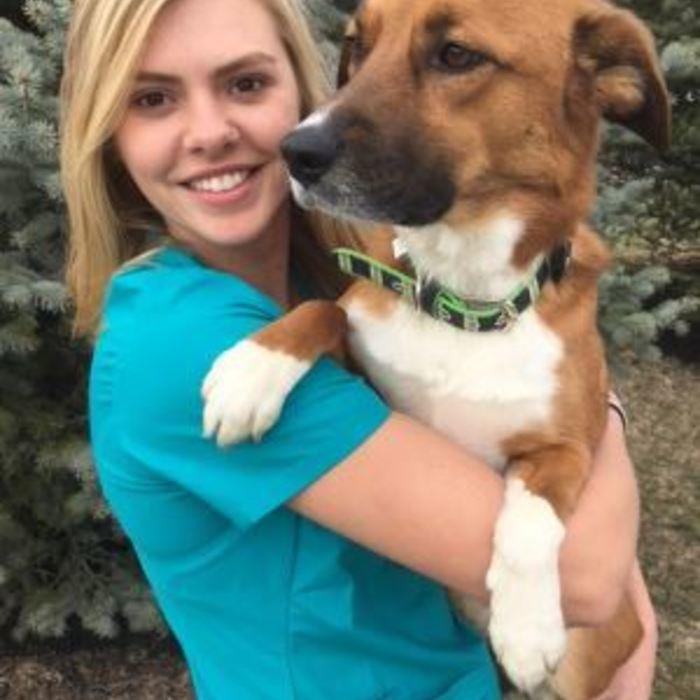 Sarah Veterinary Assistant
Sarah shares her compassionate nature and cheerful spirit with every patient and client that come into our doors. She has been working at Falcon Valley since May 2012 and enjoys learning about how to keep animals healthy. She especially loves spoiling all the pets that are here for boarding. Her experience with animals has been built up since childhood, and she currently shares her life with four pets of her own, Biggles, an 8 year old Golden Retriever, Fitzgerald, a 2 year old Shiba mix, Franny, a 1 year old hound mix, and Ms. Tibbles, her 12 year old Calico. In her free time, Sarah enjoys hiking, traveling, horseback riding, painting, and cooking. "The best part of working at Falcon Valley is that all of the staff members truly care and get involved with our patients and clients, taking the time to do what is best for them. I feel like it is hard to find that level of care in most hospitals."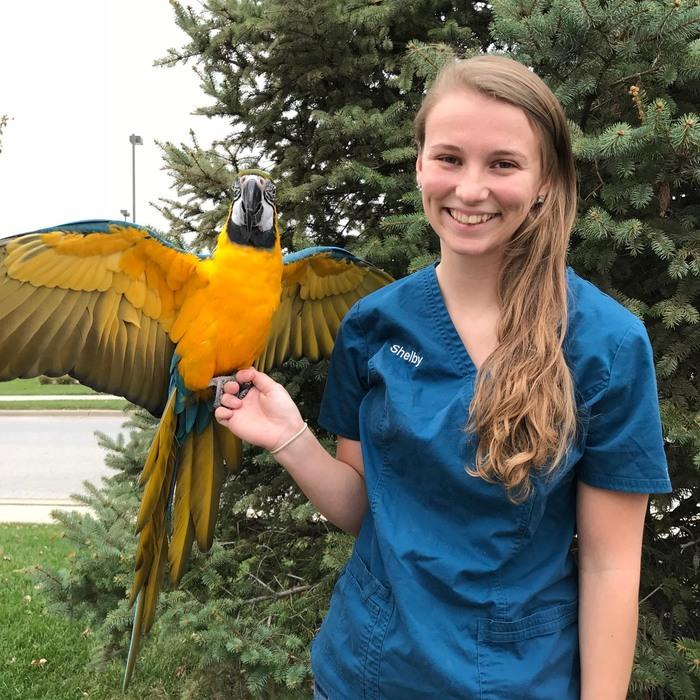 Shelby Younkin Veterinary Assistant
Shelby Younkin came to us in August 2017. She brought along almost two years of experience and knowledge in the veterinary field. She was an active member of Future Farmers of America in high school and continues the tradition with her brother, breeding his maroon-bellied Conures. Pictured with Shelby is her 7 year old, blue and gold Macaw named Kahuna. The team at Falcon Valley is proud to have another excellent team member to help care for our patients. Shelby spends her free time fishing, hunting deer, elk, quail and pheasant, and being outdoors. She also has previously volunteered her time at CLO's Midnight Farms. Shelby likes the warm and welcoming atmosphere at Falcon Valley Animal Hospital. "We give the best care possible to all patients, and being around animals all day long is very calming and rewarding."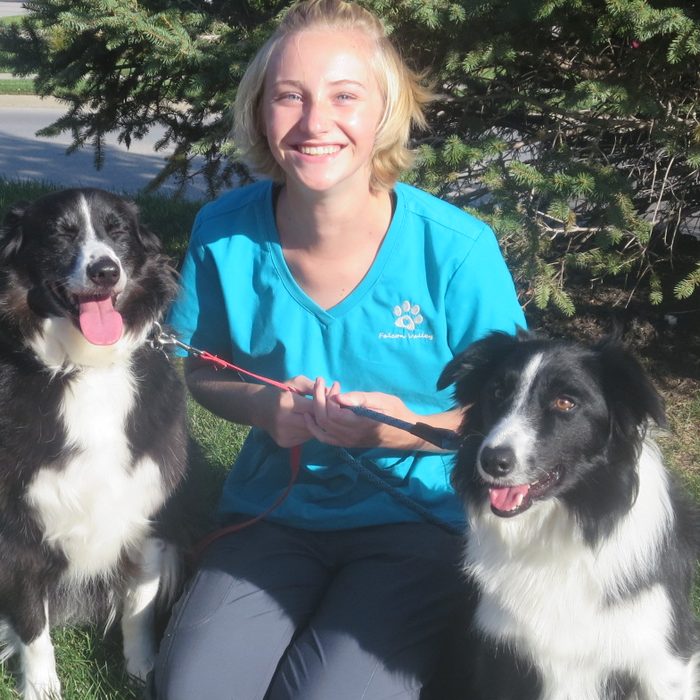 Grace Dixon Kennel Assistant
Grace Dixon took on the responsibility of her first job in August 2017. She is a junior at Olathe Northwest and enjoys baking, biking, hiking and gardening. Grace has a very sweet, gentle nature and is very good at taking care of our boarding pets. Grace has two Border Collies named Dixie and Toby. Toby participates in Kansas City Disk Dog and loves his frisbee. "I like working here because everyone is super nice, and I know that they treat every animal with compassion. I feel good knowing I am helping the animals here live happy healthy lives."